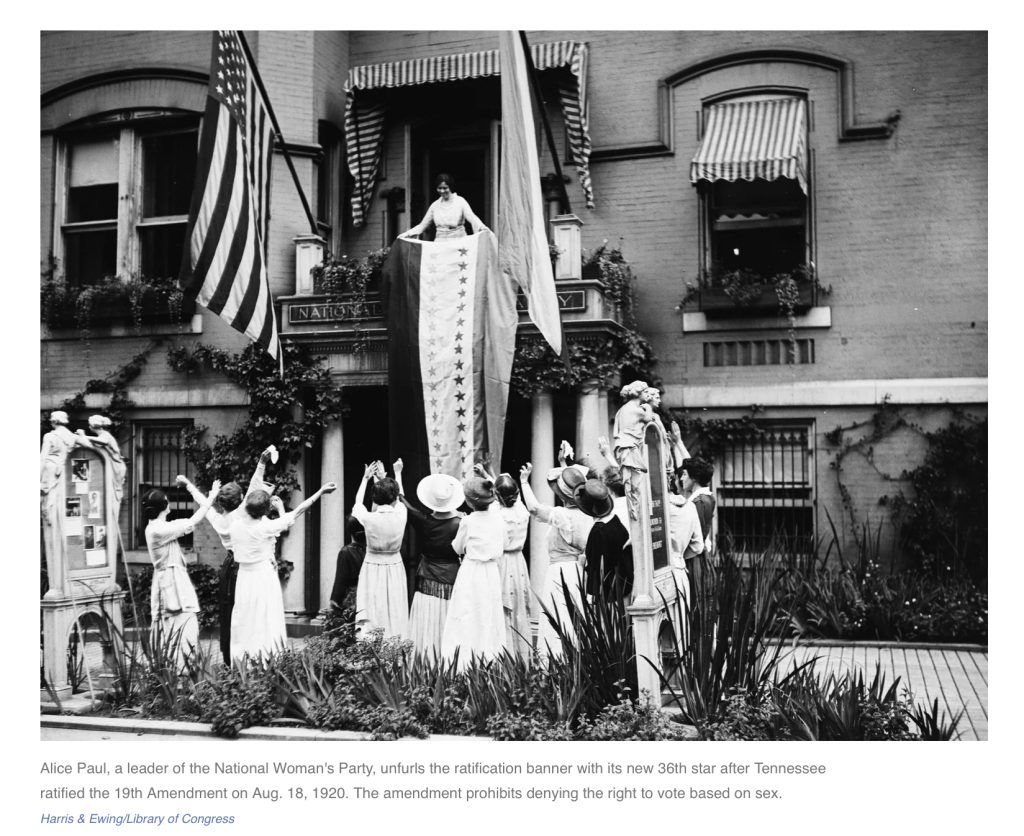 The National Federation of Republican Women (NFRW) was founded at a conference held at the Palmer House in Chicago, September 23-24, 1938.
The organization originally was known as the National Federation of Women's Republican Clubs of America. The name was changed in January 1953 to the National Federation of Republican Women.
The seal of the NFRW is the American Eagle, king of birds, holding a quill pen and standing guard over our most treasured tool of democracy – the ballot box. The seal was adopted at the biennial convention in 1944.
The Tennessee Federation of Republican Women (TNFRW) was founded in 1955 under the leadership of Mrs. Alice Elder. She became the first president of the Tennessee Federation. She organized women's groups in her own district and across the state before Tennessee became affiliated with the National Federation.
Women from Tennessee who served on the Republican National Committee preceding The Tennessee Federation of Republican Women were:
| | |
| --- | --- |
| Mrs. Mary Giles Howard | 1924-29 |
| Mrs. Beulah Overall Hughes | 1928-32 |
| Mrs. Ruby Roach McLane | 1942-53 |
| Mrs. Lupton Patton | 1955-60 |
| Mrs. Irene B. Parker | 1960 |
Mrs. Mary G. Howard served as an associate member of the RNC. National Committeewomen serving since the affiliation of the Federation are:
| | |
| --- | --- |
| Mrs. Louise G. Reece | First District |
| Mrs. Jeanne Geraghty | Third District |
| Mrs. Peggy Spurrier | Ninth District |
| Mrs. Maida Pearson | Ninth District |
| Mrs. Alice Algood | Seventh District |
| Mrs. Lilian Coker | Third District |
Tennessee Federation of Republican Women Past Presidents
| | | |
| --- | --- | --- |
| 1955-1962 | Alice Eder (Mrs. Garrison) | Chattanooga |
| 1963-1966 | Julia Bales Calloway | Morristown |
| 1967-1969 | Ann Tuck (Mrs. James R.) | Nashville |
| 1970-1973 | Ruth Tobias (Mrs. Melvin) | Chattanooga or Signal Mt. |
| 1974-1977 | Dorothy Clawson (Mrs. John) | Morristown |
| 1978-1981 | Eleanor Rooks (Mrs. Ned) | Brownsville |
| 1982-1983 | Frances Turner (Mrs. Tom) | Murfreesboro |
| 1983- | Louise Chamberlain (Mrs. Buford) | Greeneville |
| 1984-1987 | Reba Brown (Mrs. Hebert) | Chattanooga |
| 1988-1991 | Ellida Fri (Mrs. Jim) | Memphis |
| 1992-1993 | Marcy Hale | Brentwood |
| 1994-1997 | Barbara McAndrew (Mrs. Y.J.) | Dandridge |
| 1998-1999 | Shirley Curry | Waynesboro |
| 1999-2001 | Claire Bawcom (Mrs. Richard) | Franklin |
| 2001-2003 | Betty Cannon (Mrs. Jim) | Nashville |
| 2004-2005 | Annette Pannell (Mrs. Winston E.) | Kingsport |
| 2006-2009 | Shirley Ward (Mrs. Doug) | Covington |
| 2010-2011 | Susan Witcher (Mrs. Ken) | Red Boiling Springs |
| 2012-2013 | B. Claire Crouch (Steve Eldridge) | Cosby |
| 2013-2017 | Linda D. Buckles (Mrs. John) | Kingsport |
| 2018-2021 | Barbara Trautman | Germantown |